Aspen Black Bear Attack Captured On Video
2 min read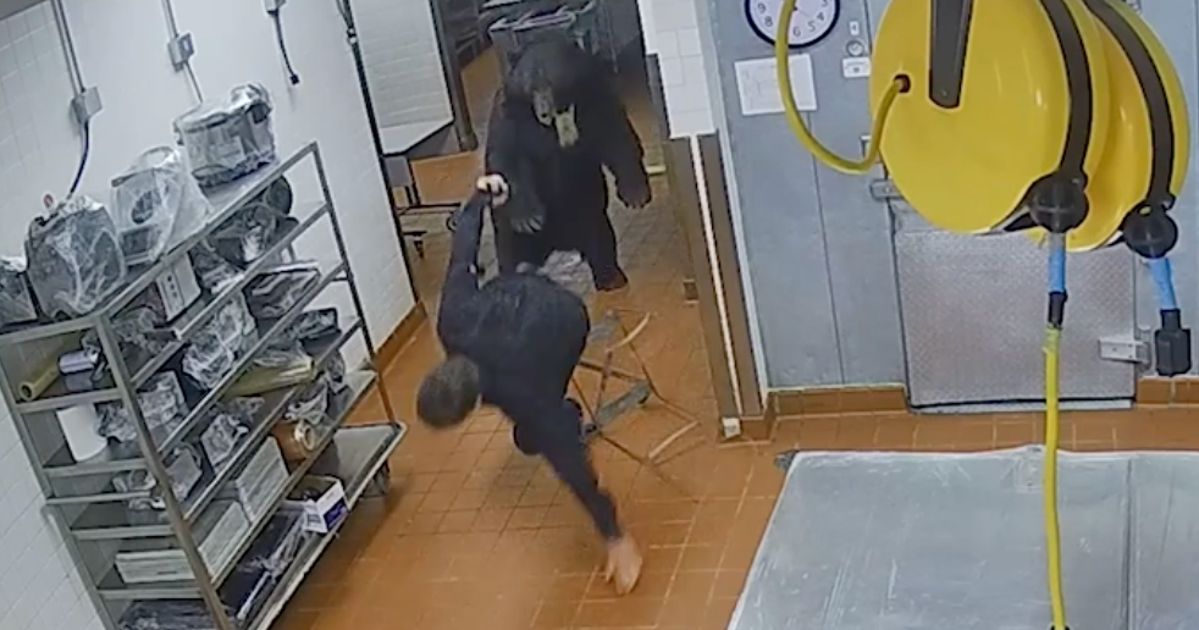 Security footage captured an unusual attack this week by a black bear that ambled through an Aspen hotel kitchen and then took a swipe at a guard, knocking him to the floor.
The attack occurred late Monday night at the St. Regis Aspen Resort in the Colorado ski town. The footage shows a black bear wandering by a prep table in an empty kitchen, then swinging back to where it had entered. The security guard, whom Colorado Parks and Wildlife Department did not identify, then is seen walking into the kitchen, tracing the route the bear had just walked.
The guard was investigating reports of bear activity in the building, according to CPW. When he turned into a room off the kitchen and found the bear, the two surprised each other. The bear appeared to rear up on its hind legs, then took a couple of swipes as the guard turned away and fell to the ground.
The bear scurried off after the attack. The guard escaped to safety and called 911.
An ambulance took the guard to a hospital, where he was treated for scratches on his back and released.
The bear had managed to enter the hotel by passing through a series of doors near a courtyard, according to CPW. The resort had closed down on Sunday for renovations that will continue until next month, a hotel employee said.
CPW officers tracked the bear, starting just after midnight on Tuesday. Black bears are a common sight in Aspen, but by using the surveillance footage, the wildlife officers were able to identify the boar by a white patch on its chest.
They spotted the bear near the hotel on Tuesday but weren't able to safely tranquilize it.
CPW officers saw the bear again near Conner Park in Aspen in the early morning hours of Wednesday. They treed the bear, then immobilized it with a tranquilizer gun at about 2 a.m.
Consistent with agency policy for dangerous bears, CPW euthanized the bear and sent its body to Fort Collins for a necropsy.
Officers spotted eight other bears in downtown Aspen during the search.
Bears are typically attracted to the smell of food, which often leads to confrontations with people. But CPW officers noted that the hotel kitchen appeared clean, without any food left out.
"This incident serves as an unfortunate reminder that bears are still active as they prepare for hibernation," CPW said in a statement. "While it is common for people to see bears and other wildlife inside Aspen town limits, it is everyone's responsibility to give wildlife space and remember the importance of being 'bear aware' at all times."
link