Biden's executive order on AI could reshape the technology's impact on economy, national security
4 min read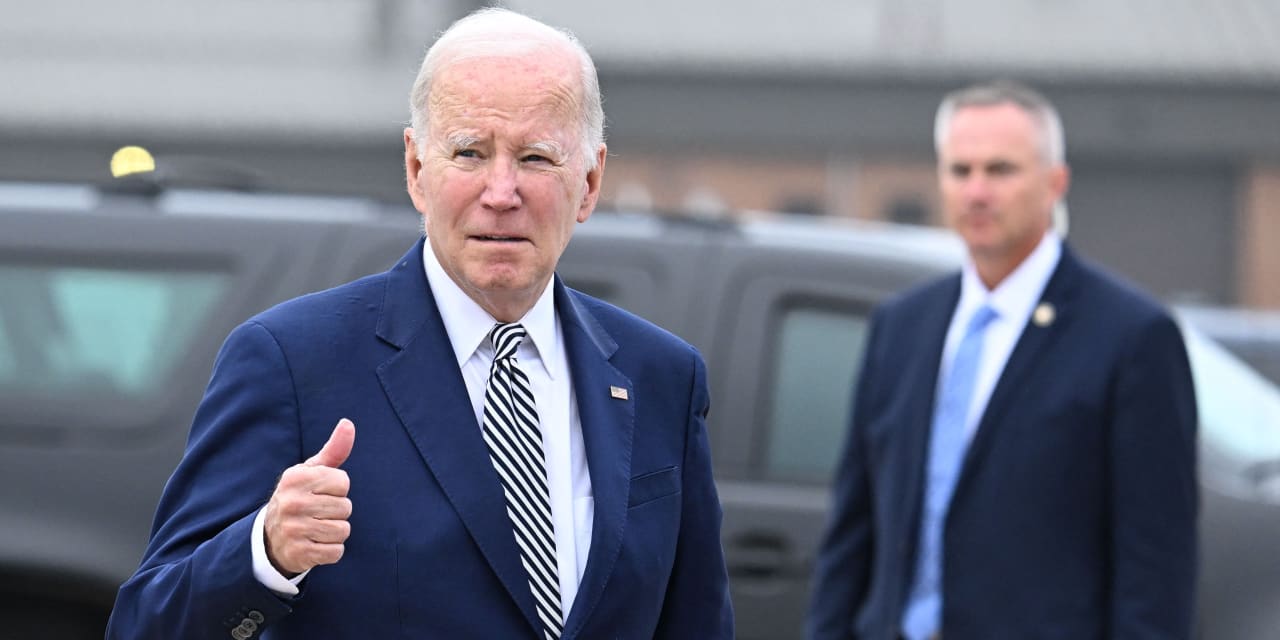 President Joe Biden's sweeping executive order on artificial intelligence issued Monday afternoon could greatly shape how AI evolves as it extends its tentacles into the U.S. economy and national security.
The order will require the tech industry to develop safety and security standards, introduce new consumer protections, and ease barriers to immigration for highly-skilled workers.
Government agencies such as the Defense Department and Energy Department would be required to run assessments to determine how they might incorporate AI into their agencies' work, with a focus on bolstering national cyber defenses. The order also calls on federal agencies to crack down on lending bias.
"Harnessing AI for good and realizing its myriad benefits requires mitigating its substantial risks," according to the order. "This endeavor demands a society-wide effort that includes government, the private sector, academia, and civil society."
Read more: Biden's AI order could help fight housing discrimination — here's how
The technology is considered a top priority by the Biden administration. "We can't move at a normal government pace," White House Chief of Staff Jeff Zients said, echoing the president's thoughts. "We have to move as fast, if not faster than the technology itself."
"AI is becoming an issue of real politics," Casey Ellis, chief technology officer at cybersecurity company Bugcrowd, said in an interview.
The White House first announced plans for the executive order in July — the U.S. government's most significant attempt to regulate the sprawling technology that has alternately electrified the tech industry, terrified large swaths of the workforce, and confounded lawmakers.
The executive order builds upon a set of voluntary commitments signed by 15 companies, including OpenAI, Alphabet Inc.'s
GOOGL,
+0.82%
GOOG,
+0.79%
Google, Nvidia Corp.
NVDA,
+2.79%
and Adobe Inc.
ADBE,
+2.61%,
that require the firms to develop technology to identify AI-generated images and include a vow to share data about safety with the government and academics.
"It's great to see the White House investing in AI's growth by creating a framework for responsible AI practices," said Adobe General Counsel Dana Rao, who will be attending the AI event at the White House later today.
Added Hewlett Packard Enterprise Co.
HPE,
+0.39%
CEO Antonio Neri: "The executive order is a positive first step in recognizing the urgency of safeguarding our society, economy, and national security against potential risks."
"The executive order is stunning in its broad sweep and ambition," Steve Weber, a professor at UC Berkeley's School of Information, said in a statement. "Much of it will never be effectively implemented, but that's not really the point. The president is now on the same side of the debate about the importance of AI with [OpenAI Chief Executive] Sam Altman, [venture capitalist] Marc Andreessen, and [Microsoft Corp.
MSFT,
+0.65%
CEO] Satya Nadella."  
Last week, Senate Majority Leader Chuck Schumer, D-N.Y., hosted his second AI Insight Forum, which is expected to serve as the foundation for his bipartisan effort to rein in artificial intelligence.
Read more: One tech executive's inside take on the U.S. Senate's AI forum
Attendee Evan Smith, chief executive of Altana Technologies, one of about 20 technology leaders, venture capitalists, academics and privacy experts at the three-and-a-half-hour meeting, characterized it as a constructive approach to balancing AI innovation with safety and security.
"The two categories of concern were the application of innovation genAI and its appropriate use without using data against people, and its impact on the labor market," Smith said in an interview.
While Congress is still in the early stages of developing bipartisan AI-related legislation, the European Union and other governments are working to block the riskiest uses of the technology. European lawmakers are expected to reach a deal by the end of the year on the EU AI Act, designed to protect consumers from potentially dangerous applications of AI.
On Monday, the Group of Seven industrial countries agreed to a code of conduct for companies developing advanced AI systems, according to a Reuters report.
Sen. Mark Warner, D-Va., chairman of the Senate Select Committee on Intelligence, considers the executive order "a good step forward" but legislation is essential to "prioritize security, combat bias and harmful misuse."
"AI is here to stay, and rather than trying to turn back the clock, this executive order is an effort to protect consumers while enabling its benefits in key sectors of our economy and in government," Chamber of Progress CEO Adam Kovacevich said in a statement.
"Given the long history of Big Tech companies like [Meta Platforms Inc.'s
META,
-0.31%
] Facebook, Apple
AAPL,
+2.07%,
Google, Microsoft, and Amazon
AMZN,
+0.78%
abusing their monopoly power in areas from cloud computing to worker surveillance, Americans should be deeply concerned about corporate consolidation of AI technologies," added a spokeswoman for Demand Progress, a nonprofit that supports internet freedom.
link