Loewenstein: Occupied Palestine 'used as a testing ground' for Israeli weapons, surveillance technology
4 min read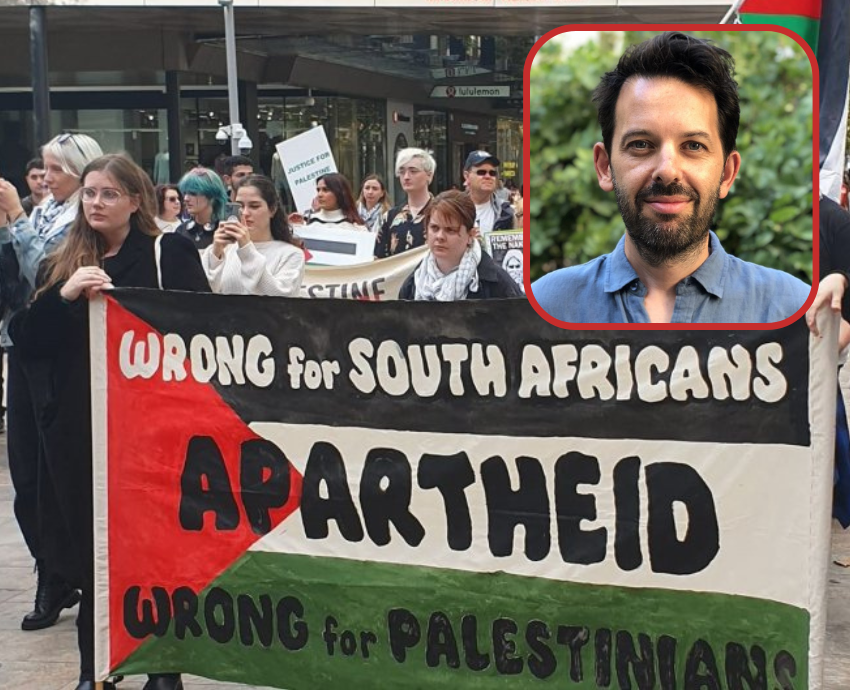 Antony Loewenstein is an independent investigative journalist, filmmaker and best-selling author. His book, The Palestine Laboratory: How Israel Exports the Technology of Occupation Around the World, was published this year.
Loewenstein told Green Left Radio on October 6 that Israel's military industrial complex uses the occupied Palestinian territories as a testing ground for weaponry and surveillance technology, which is then sold to the world as "battle tested".
"Israel … has occupied Palestinians in their backyard for over half a century, which gives them essentially a captive market to trial and test new technologies of repression," Loewenstein said.
Israel's 56-year-long occupation has given it invaluable experience in controlling the Palestinian population and Loewenstein is particularly concerned with how Israel's treatment of Palestinians is inspiring other countries — including India, Saudi Arabia, and Rwanda — "to copy in their own way".
He said that one of his motivations in writing the book was to provide "a warning that Israel remains … the most influential ethno-nationalist state on the planet, a nation that proudly discriminates against anyone who's not Jewish. And for many other nations — India being the most notorious example — Israel is an inspiration."
Loewenstein finds that the relationship between Israel and India is more than a defence relationship, it is also ideological. He compares the relationship "to the way Israel used to relate to Apartheid South Africa".
India, the world's "biggest self-described democracy", said Loewenstein, is "turning increasingly into a Hindu fundamentalist state."
Australia, US links with Israel
Loewenstein's book also draws attention to Australian institutional links with Israeli arms companies, including RMIT University's partnership with Israeli weapons manufacturer, Elbit Systems.
Elbit Systems is Israel's largest privately-owned arms and security company, producing 85% of the drones and land-based equipment used by the Israeli military. It sells its weapons as "field tested" because of their use in the Occupied Palestinian Territories and in Gaza.
"They are the worst partner imaginable," said Loewenstein. "Those are the kinds of partners that [Victoria] should not be signing deals with."
The Boycott, Divestment and Sanctions Australia (BDS Australia) is part of the global effort to end support for Israel's oppression of the Palestinians and pressure Israel to comply with international law.
"There needs to be much more pressure put on the current Australian Government to cut ties militarily at the very least with Israel," Loewenstein said.
While Loewenstein noted the "incredibly close" relationship between the United States and Israel, he told GL Radio that "within the US, there is growing dissent and questioning of that blind support, both within the wider community, and also the Jewish community" — referring to a "Jewish insurgency" in the US increasingly challenging the Israeli occupation of Palestine.
Loewenstein believes this is driven by a generational shift: "Huge numbers of young American Jews are rebelling. They don't accept the narrative that their parents or grandparents said, they're very critical of what Israel is doing. They're putting pressure on their synagogues, their Jewish communities, their leaders, politicians."
This is vital given the strength of the US alliance with Israel, said Loewenstein. "Without massive Jewish diaspora support, there would be no Israel … there would not be an endless occupying state."
Loewenstein is hopeful that this shift in the way Israel is viewed among some of the Jewish population will also impact the media coverage given to Israel. The big tech companies, like Google, Facebook, Twitter and Tik Tok, have often censored the voices of Palestinians and others that are critical of Israel.
"Many of the so-called rules that are used by these companies in terms of how they manage issues, how they allow comments to exist on their platforms, or not, are hugely informed by the US State Department worldview," Loewenstein said.
However, he doesn't think this censorship is working. "Despite all the censorship, public opinion is shifting … social media has played a really important role in giving Palestinians an amazing global voice, which they did not have so much before.
"People living in Sydney or Melbourne or New York or London or wherever they may live, see and hear a Palestinian in Gaza in their own voice, see their own images, see their own worldview, understand their perspective. And those views are often amplified in various other media."
Loewenstein said people are also becoming conscious to the pressure the Israeli government is putting on tech companies to "toe a certain narrative line". And if anything, this is "making more people more sympathetic to the Palestinian perspective".
link