Ring Stick Up Cam Pro review: Strong surveillance, indoors or out
10 min read
At a glance
Expert's Rating
Pros
Excellent performance, indoors and out
Radar-based motion detection
Available in battery, solar, and plug-in configurations
Fantastic night vision, with the option of color
Cons
You can have Bird's Eye View or Pre-Roll, but not both
Not fully compatible with Google Home or Apple HomeKit
1080p resolution
Our Verdict
This indoor/outdoor camera is a no-brainer for any Ring customer looking to expand their home security coverage. Yes, it's limited to 1080p resolution, but enabling HDR delivers color-saturated images and this camera has very strong night vision, with a color night vision option you might find you don't even need. If you need just a single camera and can get by without so many advanced features, on the other hand, you'll find a bevy of less-expensive options.
Price When Reviewed
$179.99
Best Prices Today: Ring Stick Up Cam Pro
Radar-powered motion detection has trickled down to Ring's Stick Up Cam family. Priced at $180 (for either the battery-powered model reviewed here or the plug-in version; it can also be purchased with a solar panel for $210), the indoor/outdoor camera Ring Stick Up Cam Pro costs $70 less than the Spotlight Cam Pro we reviewed in November of 2022.
While I still think Ring's Bird's Eye View feature is overrated—more on that later—this camera has plenty of other great features to recommend it, including excellent color night vision, even without the integrated spotlight that drives up the price of its stablemate.
If you're new to Ring cameras, the most important thing to know is that you'll need a subscription to get the full use of the Stick Up Cam Pro. This is increasingly common among home security cameras and video doorbells, but I'm bringing it up early in this review in case that's a stumbling block for you. Without a subscription, you won't get motion-detection alerts or video recordings; instead, you'll only get a live view from the camera.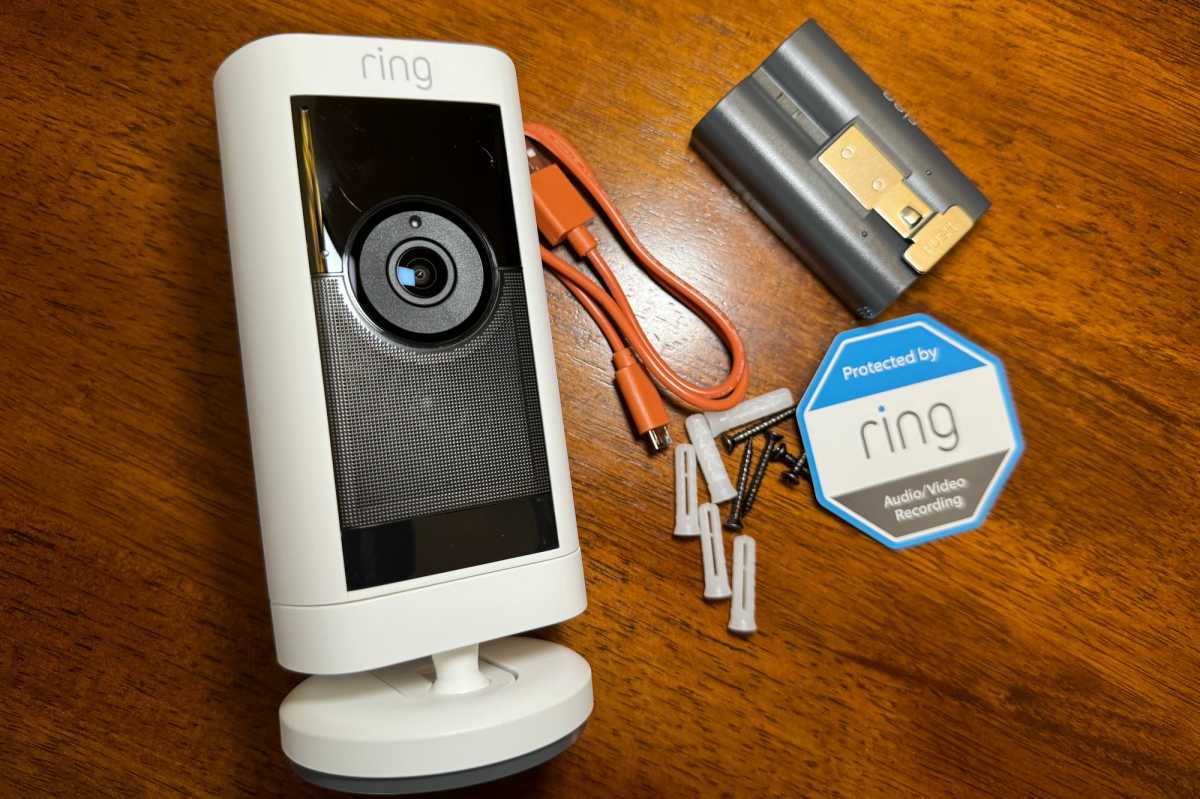 Michael Brown/Foundry
If this is your only Ring camera, a Basic subscription will cost $3.99 per month or $39.99 per year. The Plus tier costs $10 per month or $100 per year, but it covers all the Ring cameras and doorbells you've installed at a single location. If you also have a Ring Alarm home security system, your best bet is to subscribe at the Pro level, which includes everything in the Plus tier, along with professional monitoring of your alarm system.
This review is part of TechHive's in-depth coverage of the best home security cameras.
If you also own a Ring Alarm Pro system, you can plug a microSD card into its base station and store your camera and doorbell recordings locally. (Note that a few Ring devices are not compatible with Ring Edge, and you'll need a Ring Pro subscription to enable this feature. That costs $20 per month or $200 annually.)
Design & build
1080p video resolution with HDR
155 x 139 x 80-degree field of view (diagonal, horizontal, vertical) field of view
Color night vision
Radar-based motion detection
Can be deployed indoors or out
Dual-band Wi-Fi (2.4- or 5GHz)
Weather resistant, with operating temperature range of -4 to 120 degrees Fahrenheit
Two-way audio with advanced noise cancellation
Onboard 85dB siren
Unlike so many of its competitors, Ring has resisted the urge to pursue ever-higher camera resolutions, sticking 1080p HDR for this model. That's not meant as a dig: This camera delivers excellent picture quality day and night (color night vision with an assist from nearby light sources). And its lens captures a lot of action thanks to its very wide field of view: 155 degrees diagonal, 139 degrees horizontal, and 80 degrees vertical.
I tested the battery-powered model, but you can buy an AC-powered version for the same price (and add a battery later, if you'd like, which will act as a backup power supply). There's also third SKU that bundles the camera with a battery and a solar panel for $210. Some of the camera's features—including color night vision—consume additional battery power, so you might want to leave them turned off (they are by default). Unlike the Spotlight Cam Pro, this model can accommodate only a single battery.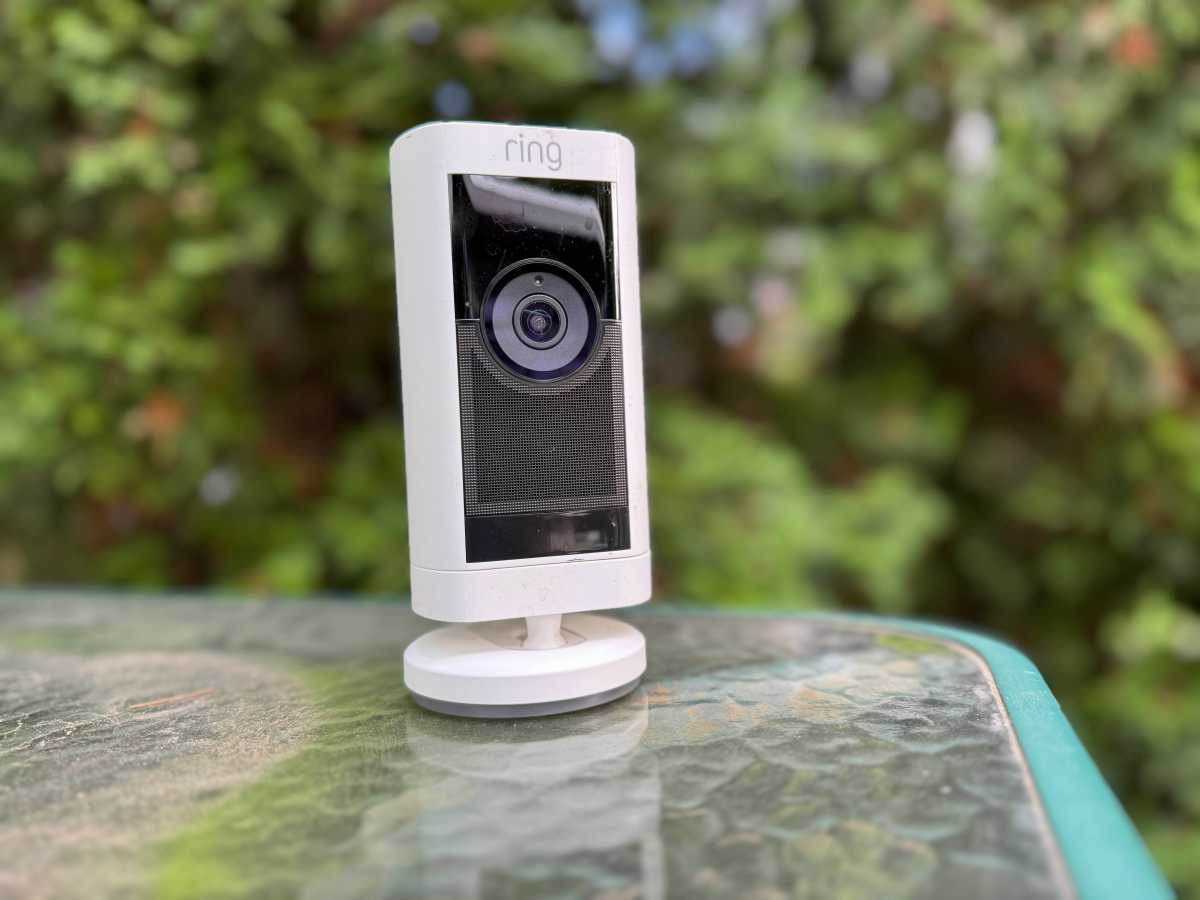 Michael Brown/Foundry
If you're replacing an older Stick Up Cam connected to a first-generation solar panel, you won't be able to carry that accessory over unless you also buy Ring's $13 USB-C/Barrel-Plug Adapter. Alternatively, Ring has two newer USB-C solar panels: a 6.9 x 4.4 x 0.5-inch (HxWxD) model that sells for $40, and a more robust 8.1 x 6.7 x 0.5-inch model that goes for $60.
The battery itself hasn't changed, which means you can salvage one from any battery-powered Ring camera or doorbell you've otherwise put out to pasture (just don't throw away your old Micro-USB cables, because you'll need one for charging).
Installation and setup
Michael Brown/Foundry
The Stick Up Cam Pro can be set on a flat surface or mounted to a wall or fence post, with an articulated stand that makes it easy to point the camera in the direction you want to monitor. I like this mechanism better than the ball-joint on the Ring Spotlight Cam Pro. Ring provides the screws and hollow-wall anchors needed for the task, but it seems the days when it also included a small screwdriver have ended.
You'll want to twist open the battery compartment on the bottom of the camera, remove the quick-release battery, and give it a full charge before proceeding with installation and setup. LEDs on the battery will glow orange and then green to let you know when it's ready. Once you've replaced the battery, you can tighten down a Phillips-head set screw to make it more difficult for a thief open the camera and steal the battery.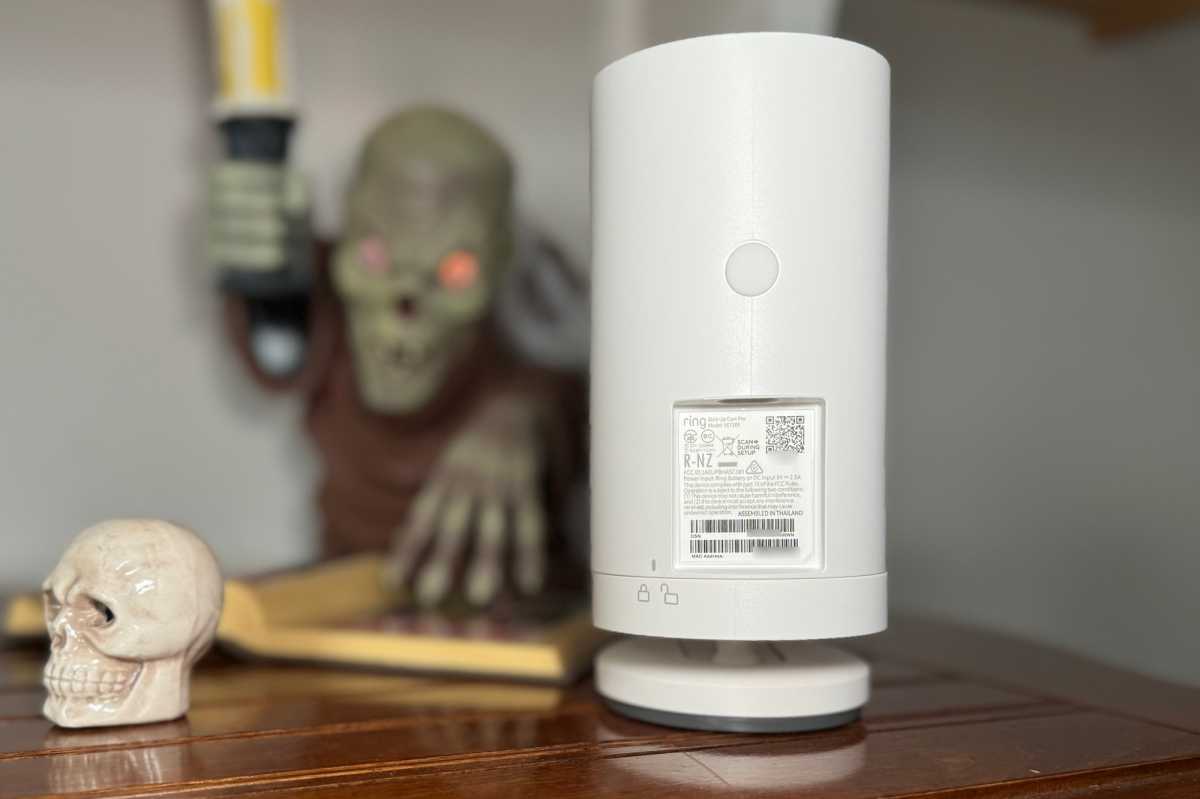 Michael Brown/Foundry
The next step is to add the camera to the Ring app by scanning either the tiny QR code in the user manual or equally small QR code on the back of the camera. I can understand why the one on the camera is so small—there's not a lot of available real estate—but my iPhone 15 Pro had considerable difficulty focusing on either of them because they're so small. It took several tries, but my phone's camera eventually captured the one in the manual.
The Ring app will ask you a number of questions during setup to ensure you get the best results from the camera, including whether the device will be installed indoors or out. I set up the camera for indoor use first, and then hardware reset it and went through the process a second time so I could test it outdoors. You'll need to provide your Wi-Fi credentials—dual-band, 2.4-/5GHz networks are supported—unless you've previously set up a Ring camera, in which case those details will auto-populate.
Motion detection, Bird's Eye View, and privacy
Bird's Eye View is one of the Ring Stick Up Cam Pro's marquee features. When you enable it and draw out the area you want it to monitor, the radar-based tech will track a person's movements in that zone and display the path they took on an aerial map of your property. This animation is displayed in a picture-in-picture window, and you can swap between it and a full-screen view of your recordings.
But I didn't find Bird's Eye View to be all that compelling when I reviewed the Ring Spotlight Cam Pro, and I'm not any more impressed with it on this indoor/outdoor model. First, it's not at all useful for indoor deployments; second—and more importantly—enabling Bird's Eye View disables the camera's pre-roll function.
Michael Brown/Foundry
The pre-roll function also shows movement that took place before the camera was triggered to send you a motion alert, and I seeing that is far more valuable than seeing animated dots. If tracking a person's movement around your property is very important, wouldn't it be better to just set up additional cameras around your perimeter?
One of the most significant ways the Ring Stick Up Cam Pro extends its battery life is by defaulting to recording and sending alerts only when a person is detected in the camera's defined motions zones. You can choose to record and/or receive alerts based on any motion in those zones, but the app will warn that this will reduce useful battery life. If that's something you need, you'd be better off with either the plug-in or solar versions of the camera (or adding a solar panel after the fact).
By default, the camera will take a snapshot once every hour in between motion events. You can increase this frequency to every 14 minutes—at the considerable expense of battery life. These frames appear in the camera's timeline and help you track what's happening in between motion events; as such, they can be incredibly useful.
If your neighbor's home is within your camera's field of view, you can establish privacy zones to block doors, windows, gates, and the like so you're not intruding on their privacy. You won't be able to see these areas and any motion within them will be ignored. Privacy zones can be as large as you need, but you're limited to two.
Video quality, night vision, and two-way audio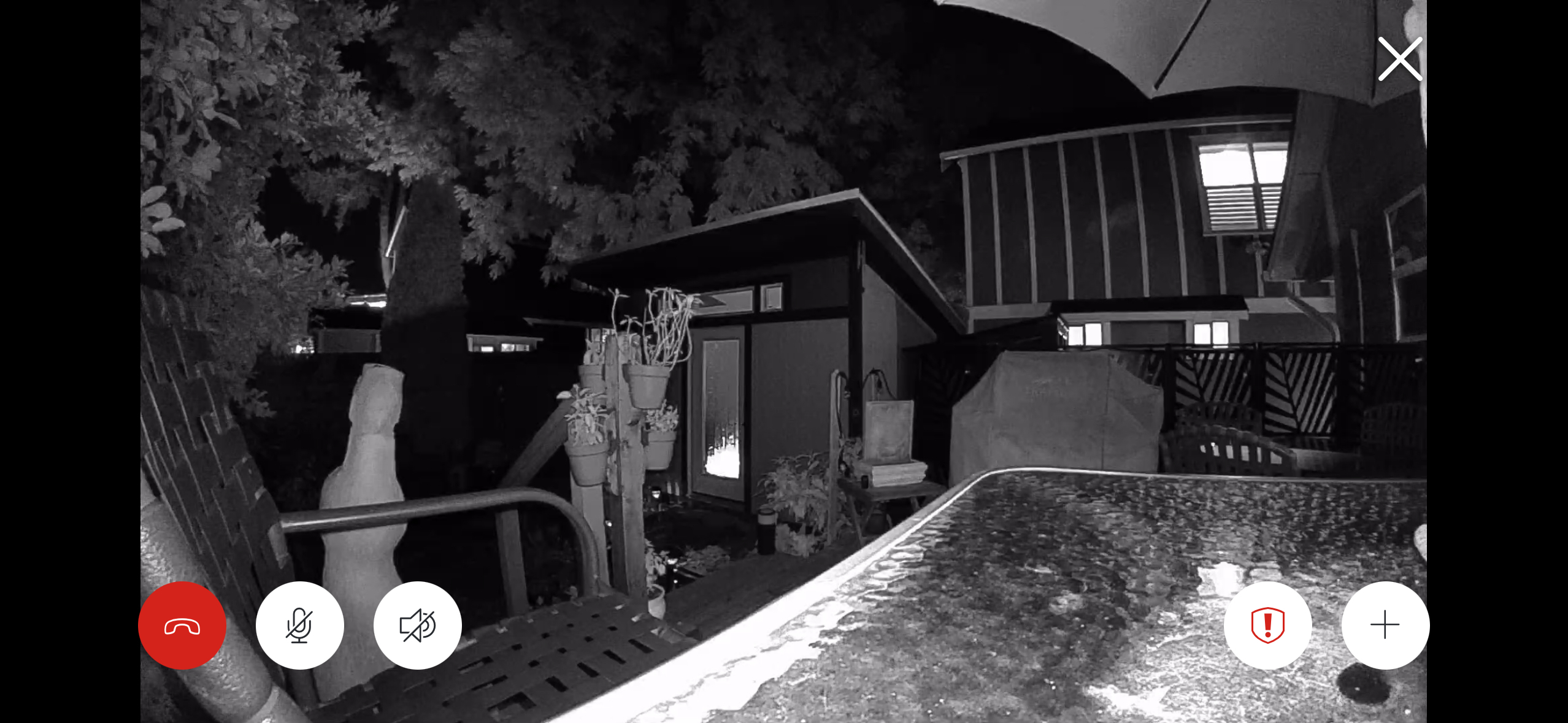 Despite having only 1080p resolution, the Ring Stick Up Cam Pro captures high-quality video with the option of high dynamic range (another feature that can be disabled to extend battery life). Its night vision is even more impressive, and you can get full color night vision—again, if you don't mind sacrificing some battery life. But you might find you don't need it. Just a little extra ambient light from a floodlight on my deck 20 feet away was enough to capture night scenes in my backyard in color.
Two-way audio is a common feature on security cameras these days, and it's of very good quality on this one. People standing in front of the camera heard me perfectly clearly and they sounded as if they were calling me on the phone at my end.
Smart home integration
Ring has grown to be a big player in the smart home market, with a robust collection of smart lighting and home security products. Ring Alarm and the more powerful Ring Alarm Pro are the DIY security system I recommend most often. In addition to the integration features I've already mentioned, any Ring device can trigger the Ring Stick Up Cam Pro to record, and it can trigger any other Ring device to perform actions of their own.
Ring interoperability is something of a force multiplier, so that an event in one area of your house can trigger things to happen anywhere else in your house: Motion-activated lights can trigger cameras to record before their own motion sensors do and vice versa.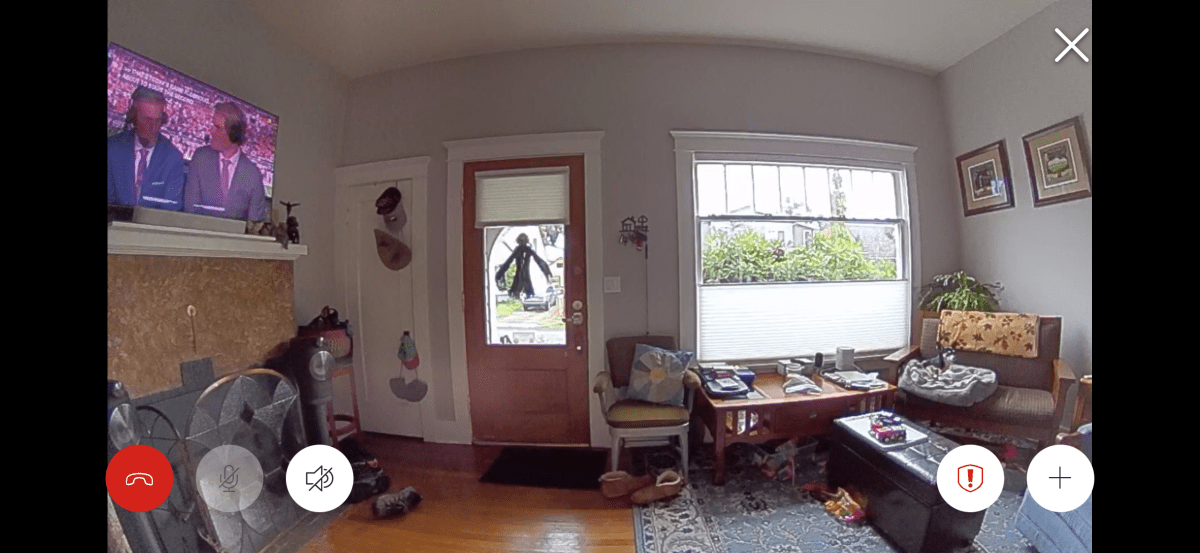 Michael Brown/Foundry
Being an Amazon company, tight integration with Alexa-powered devices is a given. You can get a live view of the camera on any Echo smart display or even on your TV if you have a later-model Amazon Fire TV device plugged into it.
Unfortunately, that compatibility doesn't extend to other smart home ecosystems. You can't stream video feeds from the Stick Up Cam Pro to a Google Nest Hub, for instance, and it's not compatible with Apple's HomeKit ecosystem either. While Apple doesn't have a smart display, you can stream some security camera feeds to an Apple TV.
Matter might break down those barriers one day, but the standard itself doesn't take security cameras into account right now. We might see movement on that front sometime in 2024, but don't make today's purchasing decisions based on anyone's predictions.
Should you buy a Ring Stick Up Cam Pro?
There's a boatload of 1080p home security cameras that cost a fraction of the Ring Stick Up Cam Pro, but none with as many features or that deliver as much performance.
That said, if you need just one camera and don't need integration with a broader smart home or home security ecosystem, take a look at the offerings from Ring's sibling company, Blink, or Wyze Labs. Both of those companies have very strong low-priced cameras, and you'll find our reviews of their best in TechHive's security camera roundup. Be aware, however, that those companies have subscription plans of their own.
If you're already in the Ring ecosystem—or plan to be—with a Ring doorbell, other model of security camera, or a Ring Alarm system, the Ring Stick Up Cam Pro will make a great addition to your arsenal, indoors or out.
link