SECURITY SURVEILLANCE BEEFED UP to crack down on organized criminals | Daily Mirror – Sri Lanka Latest Breaking News and Headlines
3 min read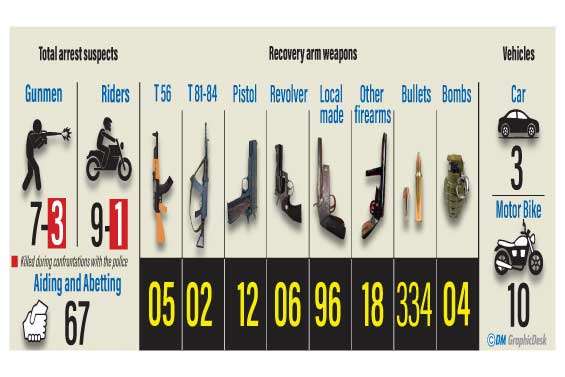 Efforts will be made to tackle underworld figures operating from overseas 
Western, Southern Provinces are of primary concern when it comes to the rise in organized crime  
To date, more than 50 people have been killed in shootings this year 
By Darshana Sanjeewa Balasuriya  
Security surveillance has been beefed up islandwide to crack down on organized criminals, particularly in the Southern and Western Provinces, amid the escalating wave of killings and robberies across the country. A senior police officer told the Daily Mirror that the Sri Lanka Police have implemented both short-term and long-term measures to tackle criminals and organized criminals in the country. Recent statistics indicate that the Southern and Western Provinces contain some of Sri Lanka's most densely populated areas, making them hotspots for crimes in recent months. This has raised concerns about the security situation in the country and the ability of law enforcement agencies to control organized crime.  
Sources have revealed that the police have put in place various measures to take stringent legal action against those involved in organized crimes. Sri Lanka has witnessed a disturbing surge in shootings, resulting in a significant loss of life and injuries. To date, more than 50 people have been killed in shootings this year, with several more injured.  
Previously, a committee, led by Western Province DIG Deshabandu Tennakoon, was appointed to investigate and recommend measures to combat drug and underworld activities. Public Security Minister Tiran Alles guided the formation of this committee, comprising Senior DIG K.P.M. Gunaratne from the Northern Province, SDIG Sajeewa Medawatta from the Southern Province, STF Commandant DIG Waruna Jayasundara, CID DIG S.P. Ranasingha, Police Narcotics Bureau DIG Oshan Hewawitharana, Special Bureau DIG T.C.A. Dhanapala, and Colombo Crime Division Director N. Silva.  
This committee, tasked with assessing the current situation and proposing effective strategies to address drug and underworld activities, has compiled an extensive database of organized criminals and their associates operating within Sri Lanka.  
According to the committee's statistics, the Western and Southern Provinces are of primary concern when it comes to the rise in organized crime. In the recent shooting incidents, a total of 46 suspects, including five gunmen, have been arrested in the Western Province, while 19 suspects, including two gunmen, have been arrested in the Southern Province. However, the police report that three gunmen and one pillion rider were killed during confrontations with the police. Furthermore, a total of 139 firearms have been seized since the committee's establishment, with over 100 firearms recovered in the Southern Province. These include 96 locally made firearms, five T56 firearms, two T81/T84 weapons, 12 pistols, six revolvers, and 18 other firearms.   
Western Province Senior DIG Deshabandu Thennakoon said that the police are utilizing intelligence gathering and surveillance to identify and target key members of organized crime groups.  
Additionally, a senior police officer said that the police will initiate public awareness campaigns to educate the public about crime prevention and encourage people to report criminal activities.  
Meanwhile, in response to the concerning rise in shootings and underworld activities carried out by gangsters operating from overseas, the Senior officer said that efforts will be made to tackle underworld figures operating from overseas.   
---
---
link